Trading
More than 40 built-in indicators and ability to process your TradingView alerts through an addon

Community
A wide and dedicated community. Share and discuss strategies and settings. Get live help from our dedicated support staff and members.

Profits
Make profit while you sleep. Trail the trends with us. Automate your trading today.
About Us
Who we are?
The No.1 crypto trading bot. It gives you the ability to trade crypto currencies automatically on multiple crypto exchanges. 24 hours a day, 7 days a week!
Core Gui Features
ProfitTrailer the innovative crypto trading bot
Our trading bot is available on Windows, MacOS and Linux. The GUI can be used on all devices connected to internet.

Monitor
A modern intuitive Dashboard where you get a full overview of your trading and bot.

Possibly Buy
This is where you can see the potential trades of ProfitTrailer. This can be easily adjusted in the configs.

Pairs
This is where you get an overview of all your purchased coins. They are waiting to be sold.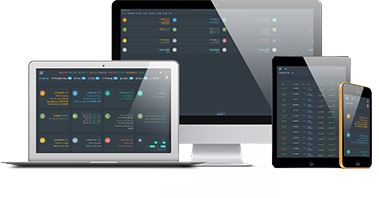 DCA
Dollar Cost Averaging. This is a special feature of the bot, where you can get rid of your bags.

Sales
This is the place where you see your sales. Everybody loves their sales.

Config
Switch between settings and a basic and advanced editor. Take full control of ProfitTrailer.
All the different flavors of our crypto trading bot
Save 25% with yearly billing
Subscription
Monthly
Yearly
License Only
Use our build-in indicators to automate your trading strategy
Live Support On Discord
Run 3 live bots
Store up to 7 custom configurations
40+ Buy-Sell Indicators
Advanced Paper Trading
Advanced Notification
Advanced Stats
Buy Now
Buy Now
Lifetime
Lifetime
Lifetime
License Only
Use our build-in indicators to automate your trading strategy
Live Support On Discord
Run 3 live bots
Store up to 7 custom configurations
40+ Buy-Sell Indicators
Advanced Paper Trading
Advanced Notification
Advanced Stats
Buy Now
Buy Now
Clean & Unique
ProfitTrailer Trading Bot GUI
Available on all devices